Equine Touch/VHT Practitioner and Instructor
As a Registered Equine Touch Practitioner, Kate can perform soft tissue bodywork on your horse to assist in a range of conditions. In addition, as a Qualified Equine Touch Instructor, she can teach you how to do this yourself - learn to make a difference to your horse in JUST 3 DAYS. No knowledge of anatomy or muscles required! (Scroll down for course details).
What is the Equine Touch?
The Equine Touch™ is a non-diagnostic, non-invasive, hands-on system of bodywork, addressing the whole horse with an organized series of unique, gentle, vibrational moves over soft tissue.
VHT is the human version Equine Touch - the same principles apply. 2 day courses to learn how to do the human version Vibromuscular Harmonisation Technique.
Sending vibration energy through the body via the muscle facia, Equine Touch addresses the body at a physical, chemical, emotional (and some say spiritual) level. Body Balancing helps the body reach a state of homeostasis which allows it to reset to its original design so that it can function to the optimum.
Equine Touch can
Help relieve muscle tension and stiffness
Help reduce emotional stress and reduce the pain spiral
Stimulate circulation and lymphatic drainage which can aid healing
Performance tuning for equine athletes
Relaxation and detoxification after illness or strenuous exercise
Stimulation and detoxification for horses on box rest
Deep relaxation and promoting general well being at a maintenance level
Holistic rebalancing of the body following any form of adjustment – foot trimming, dental work, chiropractic etc
Pampering – horses LOVE Equine Touch!
An Holistic discipline which allows the body to rebalance itself
Equine Touch is
Complimentary to many other healing modalities including allopathic, acupuncture, homeopathy, herbs and chiropractic. The Equine Touch is also compatible with all types of equine address such as foot trimming, shoeing, saddle fitting and correction, balanced riding, training, rehabilitation and nutrition, all essential elements in creating and maintaining stability and health in any horse.
Equine Touch is suitable for ALL horses
Routine bodywork can help old horses, young horses, injured and recuperating horses, can help to fine tune the performance horse, and can be preventative by identifying small imbalances in the body before they become big ones.
_____________________________
Equine Touch Practitioner
Equine Touch Session £30 per horse + mileage if applicable
For some horses, one session will produce amazing results. A follow up session may be recommended as once the horse has become familiar with the Equine Touch, they will take even more from the Body Balancing. Depending on the issues being addressed, a series of sessions may be required.
To retain well-being and freedom of movement, routine maintenance sessions can be very beneficial.
_____________________________
Equine Touch Courses - 3 Days to Change
the World of your Horse!
Anyone can learn The Equine Touch. You do not need a knowledge of equine anatomy, you will learn all you need to know here. Suitable for the young or the old, the professional and the amateur.
Level 1 and Level 2 are designed for the Horse Owner to use Equine Touch as part of their management routine for their own and friend's horses. They are also the foundation of the Practitioner training.
The Foundation Clinic - Level 1
Three days of hands-on tuition and basic theoretical understanding. Students are introduced to the Equine Touch by practicing the basic procedures on their fellow students and then transferring them to the horse. This allows students to experience the Equine Touch and by the end of the course they will be able to perform the Basic Body Balance on the horse and rider. 6 key Areas of Concern in the horse are also covered. 9.30am - 4.30pm daily, manual is supplied, course fee £320. Supporting DVD available for purchase £16.50.
You will have the opportunity to join the International Equine Touch Association (IETA) for on-going education and support.
The Advanced Clinic - Level 2
A three day clinic which reviews all aspects of the Move and Basic Body Balance and Areas of Concern as learnt at Level 1. This then progresses on to teaching the Advanced Body Balancing procedure and 15 new procedures for Areas of Concern for the horse and 3 new procedures for the rider. Further theory of the discipline and its synergy with other influences on the horse such as dentistry and hoof care. 9.30am - 4.30pm daily, manual is supplied, course fee £320. Supporting DVD available for purchase £16.50.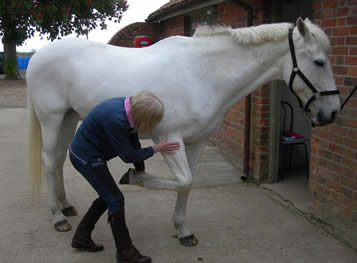 Equine Touch Workshops - All ET Students welcome
Get together for a day for help on improving your technique, sorting out any problem areas and receive support and encouragement. Most importantly be inspired by the stories of success from other students and their horses. 10am - 4pm, £50, (IETA members £40).
The Practitioner Clinic - Level 3
This is for those wanting to take the Equine Touch to higher levels. Taught only by the Founders of the Equine Touch, Jock and Dr Ivana Ruddock contact the UK National Co-ordination Centre on 0871 641 2118 for all details.
_____________________________
Contact Kate, a qualified Equine Touch Practitioner and Instructor, for more information on an Equine Touch Body Balancing session.
Kate can also help with training, behaviour and rider issues, all part of the whole horse picture. See Services for more details.
For more details and a greater explanaition on The Equine Touch see www.theequinetouch.com
_____________________________
Equine Touch Case Studies
(Click on to see how these case studies developed)
A very crooked donkey.......
Emma's Amber

When I first met Amber, she was a very peculiar shape and unlevel when moving. Even whilst battling with foot balance problems, bodywork has helped her turn into a beautiful, graceful and sound horse.......
Molly
A visit from the dentist prompeted an Equine
Touch session. This helped her body and her attitude........
Tess
Helping a new horse begin a great partnership to success.....
Sparkie and the Clippers
Comfortable skin makes clipping easy.....