Equine Touch Case Study
"Amber"
Amber was an 11 year old mare bought in a rather poor condition about 18 months previously. She had only been with her new owner a month or so when she had a nasty accident and got tangled up in a wire fence. It took almost a year for Amber to recover from this and when I met her, Amber was being brought back into doing groundwork using Natural Horsemanship methods.
The plan was for me to help improve the groundwork and get the ridden work back underway. There was still plenty to improve on with the groundwork and when we examined Amber physically, we decided that her body was very irregular with many areas overdeveloped, others atrophied (possibly from a pinching saddle in the past), and stressed by compensations from the accident.
3 August 2006
Amber was very unbalanced when she moved, especially at trot when she appeared lame although she was declared sound by the vet. Her chest was exceptionally wide with her elbows turning out, particularly the left one which was getting worse as it began to develop. She had huge overdeveloped muscles on both sides of her neck just above the wither which were probably compensating for the atrophied muscle behind the wither. If these could not swing the shoulder back and forth because they were blocked by a tight saddle in the past, the muscles in the neck would try to do the job instead.
3 August 2006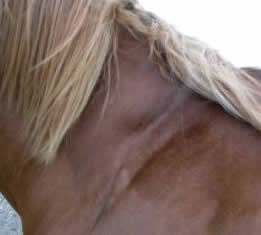 So we began to offering Amber some Equine Touch sessions.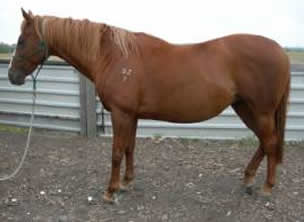 During the first session she suddenly appeared to shrink by a couple of inches and we noticed that she had rocked her weight right back and just stayed like that.
By the third session, Ambers back had softened to a completely different texture. Two hard muscle knots now stood out along her mid-back, one on the left near the front and one on the right further back. It was making sense why she fidgeted whenever the saddle was brought out.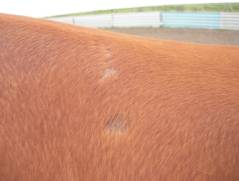 It took a long while for these knots to release but when they finally did, a patch of hair exactly over the right hand one fell out before it slowly re-grew.
13 April 2007
Amber's owner was adamant about not saddling Amber or trying to sit on her whilst there was a suspicion that she was sore or tight anywhere. They had come this far from a horse in very poor condition and through a nasty accident. Instead she concentrated on improving Amber's balance and paces from the ground and built up a fantastic relationship. When she finally did start to ride her horse again, there was complete acceptance and no sign of discomfort.
Amber had turned into a more balanced horse with good paces, smoother lines and a very happy outlook. This all came about from some very simple bodywork and learning how to work effectively and in harmony with your horse from the ground.
13 April 2007 - After 7 EquineTouch sessions.
One year on -after Amber had been roughed off for 6 months with no work except for on-going Equine Touch sessions.
March 2008